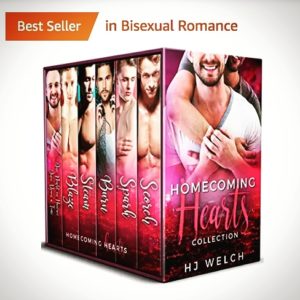 Well, 2020 has already gotten off to a busy start, including an updated and revamped website for www.hjwelch.com! I released Homecoming Hearts as a series box set and am thrilled at how many new people are now discovering Below Zero! It hit #1 in the US bisexual chart as well as several other charts, earning me a few orange banners! Boy bands for life <3
I'll be attending two conventions over the next few weeks. shiMMer in Birmingham, UK, and Book Lovers Con in Nashville, Tennessee. I hope to see some of you there!
Since the release of the last Pine Cove book, Bright Horizon, I've been focusing on my other pen name, Helen Juliet. These are stand alone fairy tale adaptations wet in the UK. For the next couple of months, I'll just be concentration on that, but then I'll be back to Pine Cove with Jay's story!
If you want to see what's going on with Helen Juliet, please visit the sister website www.helenjuliet.com.
If you want to keep up with ALL the news, make sure you're in my Facebook group, Helen's Jewels.